Managing Partner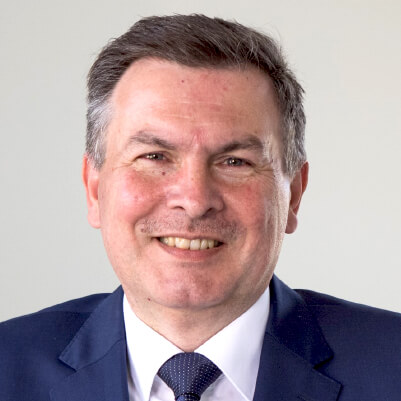 Entrepreneur, board member, managing director with over 30 years of management experience in medium-sized companies and DAX corporations as well as in management consulting
Several years of international business responsibility in operational and commercial management and leadership functions
Holistic support of a large number of succession planning and strategic M&A projects
Many years of experience in the successful implementation of concepts for corporate management and sustainable increase in company earnings
Experienced in restructuring | strong communication and leadership skills | interculturally versed | team-oriented
Accompaniment of companies in advisory and supervisory boards
Founder and managing partner of valegra
Consulting-Team
For years, valegra has been working very successfully with a network of partners and employees who have been familiar with their professional experience for many years.
This "well-established" team works together in a spirit of trust, for the benefit of customers who value the efficient approach of valegra.
The valegra team brings many years of professional experience from different industries and expertise.
ESUG-Consultant
Geprüfte ESUG-Berater verfügen im Gegensatz zu "normalen" Beratern über eine spezifische Kompetenz und Erfahrung, die sie in die Lage versetzt eine unternehmerische Krise nicht nur mit den klassischen Methoden der Betriebswirtschaft außergerichtlich einer Lösung zuzuführen, sondern auch die strategische Option einer Sanierung unter Insolvenzschutz gezielt anzusteuern.Geprüfte ESUG-Berater haben sich im Bundesverband ESUG e.V. (BV-ESUG) zu gemeinsamer Tätigkeitsausübung zusammengeschlossen.
Geprüfte ESUG-Berater sind als Mitglieder des Bundesverbandes ESUG e.V. (BV-ESUG) in der Lage das Unternehmen vollständig über das Verfahren selbst, die einzuhaltenden Rahmenbedingungen etc. zu informieren und den komplexen Prozess zu strukturieren, weil sie zum Beispiel auch über ein Netzwerk kompetenter und erfahrener Sanierer mit individuellen Branchenkenntnissen und gerichtlicher Abwicklungs- und Sanierungserfahrung verfügen. Darüber hinaus ist der geprüfte ESUG-Berater im BV-ESUG in der Lage alle Vorbereitungshandlungen für eine solche Sanierung unter Insolvenzschutz, egal ob als Schutzschirmverfahren oder nur im Rahmen von Eigenverwaltung, zu strukturieren und das Unternehmen auch im Team mit anderen Spezialisten durch das Verfahren hindurch zu begleiten, bis die notwendigen operativen Maßnahmen greifen und das Unternehmen wieder neu und wettbewerbsfähig ausgerichtet ist.
Spezialist für Sanierung unter Insolvenzschutz
Geprüfte ESUG-Berater im BV-ESUG verfügen über tiefgreifendes Wissen beim Erkennen und Bewältigen von Krisensituationen, die sich erfolgreich und in besonderer Weise unter Insolvenzschutz überwinden lassen, ohne dass es zu einem Gesellschafterwechsel kommen muss. Das Unternehmen dem Unternehmer zu erhalten ist daher auch ein vorrangiges Ziel der professionellen ESUG-Beratung. Durch ihre Ausbildung und die Zusatzqualifikation des DIAI-Gütesiegels "Geprüfter ESUG-Berater" lernen sie betriebswirtschaftliches und insolvenzrechtliches Know-how miteinander zu kombinieren, um schnellst möglich die operativen und finanzwirtschaftlichen Restrukturierungsmaßnahmen aufzusetzen, sei es mit der strategischen Option der Sanierung unter Insolvenzschutz oder einer außergerichtlichen Sanierung, denn die geprüften ESUG-Berater verfolgen stets einen ganzheitlichen Beratungs- und Prüfungsansatz.
Mitglied: Deutsches Institut für angewandtes Insolvenzrecht e.V.